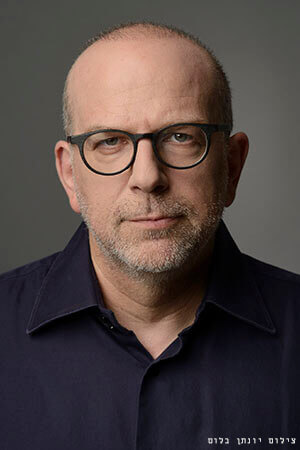 resume
One of the most respected and well-known journalists in Israel, Yaron Deckel's career spans over three decades of reporting, editing, hosting and serving as leader of one of Israel's most popular radio station. From 2012- 2017 Deckel served as the Editor in Chief and CEO of Galei Tsahal where he oversaw an annual budget of 60-million shekels, 350 employees and soldiers. In 2015 he began hosting a weekly prime-time radio talk-show on Politics. Deckel started his journalism career at the age of. As political reporter and commentator for both radio and television, for the past 3 decades he has closely followed the ins-and-outs of Israeli politics and governance, developing close relationships with all the decision makers in Israel, including top politicians and military leaders.
Between 2002–2007 Deckel served as Washington DC, Bureau Chief for Israeli Public TV where he covered US-Israel relations and traveled the US reporting on social and cultural issues, as well on internal US politics and. Deckel was the first Israeli journalist to interview President George W. Bush. He also interviewed Presidents Carter and Clinton, among other US leaders.  During his time in the US, he created a 5-part TV documentary "the Israelis", documenting the lives of Israelis living in the US and Canada.
Deckel is the winner of several awards including the Sokolov Award, the most prestigious award for journalists in Israel.  He also was the Bnei- Btirh award for special coverage of the Jewish Community in the USA.
Tensions and intentions – Israeli turbulent politics behind the scene.
House of visions and divisions – Schisms and politics in Israeli society in depth.
Friends in need are friends indeed
The Israeli society has never been so fragmented and split on so many issues: the religion and state, the final borders, the position of Supreme Court and the status of law and order in political life. What are the challenges the Jewish State faces in the years to come, and where all this lead to? Is Prime Minister Netanyahu irreplaceable?
On its 70th year of independence, Israel is the strongest country in the Middle East, with a flourish economy, high level of security, and well – known high-tech companies. So why is the Israeli government so controversial – among Israelis and world-wide? Where will the corruptions police inquiries lead to? And why is the peace process frozen so long? Does President Trump have a chance of renewing the process and have a success where his predecessors failed?
Israeli – US/Europe relations under the leadership of President Trump and Prime Minister Netanyahu.How do the two leaders shape the politics of the Middle East, and of the world? Why is Donald Trump so popular in Israel? Would it open a new horizon for the Jewish State?
order lecture by -
Yaron Deckel