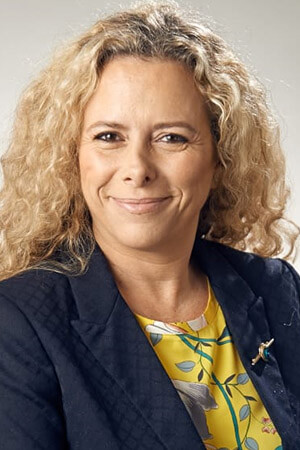 resume
Former member of Knesset, Ayelet Nahmias Verbin, has had a rich and unusual career. As a lawyer in training she has chosen to turn right away to management as well as public sector activities.
With interdisciplinary abilities, Nahmias Verbin has had one foot in boards (one of the very first women to hold multiple positions in boards), and one foot in public life heading different organizations and volunteering in various NGO's. she has always pursued a parallel a political career, having started very early on in Yitzhak Rabin's closest team and later on in different consulting positions. Only once having a family, with her Husband Ivri – himself a prominent figure in the business sector, she has resumed to take the plunge. Almost immediately after joining the 20th Knesset, she became a leading figure in the committees, being a member of the Economic Committee, Foreign Relations and security, House committee and Children's rights. Having vast experience from the business sector she brought on special abilities in the oversight of the government as well as solving major public crisis in unique ways.  Acting as the head of the industry caucus, family caucus and the Israel-Greece parliamentary friendship group, she was very much involved in the international joint ventures of the Knesset.
As a public figure, former MK. Nahmias Verbin and her husband chose open their hearts and house for public actions, and in order to empower other women with careers has let Galit Guttman, a leading figure, to spend a few days with her and to share the complexities of being a working mom.
Everything you wanted to know about Israeli Politics and had no one to ask
Women and Leadership
Former member of Knesset Nahmias Verbin, shows us a secret door into places where no other than the members of Knesset themselves is allowed to come in. she allows us a peak into the parliament corridors in unusual ways, into the willing and dealing and the unseen interests which move high windows politics. Using stories and a fantastic sense of humor as well as the essential self-derogatory humor for a politician, no lecture is similar to the other. Using current events, Nahmias Verbin draws us into what she calls her extreme sports – politics.  This is a fascinating opportunity to get a closure look at the developments Israel is and has gone through in recent years.
As someone who was always perceived as a leader, former member of Knesset Nahmias Verbin sat very early on boards – around those tables she would usually be the only woman and practiced as preached to "lean in" (Sheryl Sandberg).
With her unique way and self-criticism, she is trying to portray the current situation of gender development and feminism. Speaking very frankly about the necessity of a continuous revolution (such as #metoo), she gives a fresh look of the pendulum and how do we really create a more equal society.
Being influenced by major women leaders, Nahmias Verbin refuses to avoid the difficult questions of work-life-balance and shares her tips, successes and failures as a working mom.
Not a dull moment in life and not a dull moment in this public figure's lecture (:
Why should you choose Ayelet Nahmias Verbin
A lecture by former member of knesset Ayelet Nahmias Verbin is more of an performance and an experience.  with a great sense of humor we all become partners in her longtime political and business experiences.
order lecture by -
Ayelet Nahmias Verbin